Professional employment and academic education
| | |
| --- | --- |
| Since 2017 | Full Professor and Director of the Institute for Chemistry and Metabolomics, University of Lübeck |
| Since 2015 | Vice-Coordinator of the DFG Research Unit ViroCarb |
| Since 2010 | Elected member of the Senate of the University of Lübeck |
| 2004 | Visiting Professor to the laboratory of Prof. Bundle at the alberta Ingenuity Centre for Carbohydrate Sciences, University of Alberta, Edmonton, Canada |
| 1996-1998 | Dean of the Faculty of Natural Sciences, University of Lübeck |
| 1994-2017 | Full Professor and Director of the Institute for Chemistry, University of Lübeck |
| 1992-1994 | Privatdozent at the Johann Wolfgang Goethe-University of Frankfurt |
| 1992 | Habilitation for "Biophysical Chemistry" at the Johann Wolfgang Goethe-University, Frankfurt am Main |
| 1986-1987 | Research Associate at the National Research Council of Canada, Institute of Biological Sciences, Ottawa, in the laboratory of Prof. Dr. D. R. Bundle |
| 1986 | Dissertation in the laboratory of Prof. Dr. H. Paulsen, University of Hamburg |
| 1977-1983 | Studies of Chemistry at the Universities of Kiel and Hamburg |
Honours, distinctions, scholarships, awards
| | |
| --- | --- |
| 1980-1983 | Fellow of the "Studienstiftung des Deutschen Volkes" |
| 1983-1985 | Fellow of the "Verband der Chemischen Industrie" |
| 1988-1990 | Liebig-Fellow of the "Verband der Chemischen Industrie" |
| 1994 | Prize of the "Hermann Wilkomm-Stiftung" |
| 2004 | Roy L. Whistler Award of the "International Carbohydrate Organization" |
Editorial and advisory boards
| | |
| --- | --- |
| Since 2006 | Member of the Editorial Board of the "Journal of Carbohydrate Chemistry" |
| 2006-2012 | Member of the Editorial Board of "Carbohydrate Research" |
| 2008-2018 | Member of the Editorial Board of "Glycoconjugate Journal" |
| 2008-2019 | Member of the Advisory Committee for the Resource for Integrated Glycotechnology, Complex Carbohydrate Research Centre, University of Athens, GA, USA |
NMR studies into protein-carbohydrate interactions:
Glycosyltransferases - Molecular details of substrate recognition
Norovirus and related caliciviruses - binding of histo blood group antigens to viral coat proteins
Ten most important publications (Hirsch-Index 32, Researcher ID F-6335-2011)
Mallagaray, A. Creutznacher, R., Dülfer, J., Mayer, P.H.O., Grimm, L.L., Orduña, J.M., Trabjerg, E., Stehle, T., Rand, K.D., Blaum, B.S., Uetrecht, C., and Peters, T. (2019) A post-translational modification of human Norovirus capsid protein attenuates glycan binding. Nature communications, 10, 1320.
Flügge, F. and Peters, T. (2018) Complete assignment of Ala, ile, Leu, Met and Val methyl groups of human blood group A and B glycosyltransferases using lanthanide-induced pseudocontact shifts and methyl-methyl NOESY. J Biomol NMR, 70, 245-259.
Mallagaray, A., Lockhauserbäumer, J., Hansman, G.S., Uetrecht, C. and Peters, T. (2015) Attachment of Norovirus to Histo Blood Group Antigens: A Cooperative Multistep Process. Angew Chem Int Ed, 54, 12014-12019.
Fiege, B., Rademacher, C., Cartmell, J., Kitov, P.I., Parra, F. and Peters, T. (2012) Molecular Details of the Recognition of Blood Group Antigens by a Human Norovirus as Determined by STD NMR Spectroscopy. Angew Chem Int Ed Engl, 51, 928-932.
Rademacher, C., Guiard, J., Kitov, P.I., Fiege, B., Dalton, K.P., Parra, F., Bundle, D.R. and Peters, T. (2011) Targeting norovirus infection-multivalent entry inhibitor design based on NMR experiments. Chemistry, 17, 7442-7453.
Rademacher, C., Krishna, N.R., Palcic, M., Parra, F. and Peters, T. (2008) NMR experiments reveal the molecular basis of receptor recognition by a calicivirus. J Am Chem Soc, 130, 3669-3675.
Munch, J., Standker, L., Adermann, K., Schulz, A., Schindler, M., Chinnadurai, R., Pohlmann, S., Chaipan, C., Biet, T., Peters, T. et al. (2007) Discovery and Optimization of a Natural HIV-1 Entry Inhibitor Targeting the gp41 Fusion Peptide. Cell, 129, 263-275.
Benie, A.J., Moser, R., Bauml, E., Blaas, D. and Peters, T. (2003) Virus-ligand interactions: identification and characterization of ligand binding by NMR spectroscopy. J Am Chem Soc, 125, 14-15.
Vogtherr, M. and Peters, T. (2000) Application of NMR based binding assays to identify key hydroxy groups for intermolecular recognition. J. Am. Chem. Soc., 122, 6093-6099.
Meyer, B., Weimar, T. and Peters, T. (1997) Screening mixtures for biological activity by NMR. Eur J Biochem, 246, 705-709.
Prof. Dr. Thomas Peters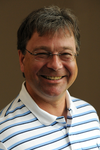 Building 61, Room 307a